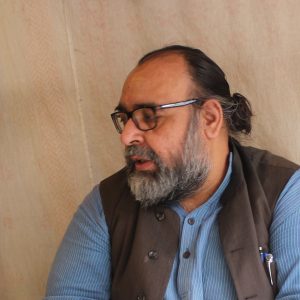 RAJAT KUMAR
FOUNDER + PRINCIPAL ARCHITECT
Rajat's professional expertise and value-driven insights have always been found beneficial for several projects ranging from Institution designs, Hotels & Work Spaces to Salons, boutiques and Residences.
Due to his interest in academics and research, he has taught courses in Basic Design and Architecture Theory in Sushant School and School of Planning & Architecture.
SUMIT TOMAR
VISUALISATION HEAD
Sumit heads an independent team of 3D visualisers who can be called 3D 'designers' in its true sense. Over the years, collaborations with him have become an integral part of our design process.
His understanding of sensibilities towards interior design and architecture makes him an important collaborator in the design process.
M. R. RENJAN
SENIOR DESIGN CONSULTANT
Artist, teacher, design consultant, animal trainer, Mr. Renjan has been involved in all the aspects of the studio ever since its inception. His insights and his experience as a teacher are the most crucial in the initial stages of the designs till their development. The design process, its scope and extent get guided by him independently.
He is a consultant to architecture and advertising studios in Delhi NCR. He has designed and headed workshops for design teams of leading Ad Agencies in the past. He has been a Faculty member in IED Vidyanagar, CEPT Ahmedabad, SPA Delhi, and in SSAA Gurgaon. His artworks have found patronage in collections of various Institutions and private collectors both in the country and abroad.
ANURADHA SHARMA
LEGAL + ADMIN
With over 8 years of experience in Corporate and Company Law, Anuradha brings an assertive and foundational strength to the backend workings of the Studio. She is associated with various Senior Law Firms in the city, and works also as a Legal Service Counsellor  at the Saket Court.
Her interests in human rights keeps her in close contact with various NGOs where she visits as an advisor and as an educator.